Throughout my day, I drink about a gallon (or two) of water. I've had a miserable time finding a water bottle that I like. I started with a SIGG which was a disaster. The bottle started smelling musty after about a week, and started tasting musty about a week after that. No matter what I tried, the bottle was disgusting, and it leaked. Plus the little loop at the top seemed handy, but was actually not all that convenient to grab and go.
After the OXO bottle, I tried the outrageously expensive S'well Matte Army Green bottle. I loved the look of the bottle, but it was remarkably difficult to deal with. The Swell bottle did keep beverages cold (or warm) for hours, but that was its only benefit. The bottom of the bottle had this funny dimpled effect it (similar to a Coke bottle). that, in conjunction with the unbelievably top-heavy lid, made the bottle incredibly unstable. I felt like I was constantly picking the bottle up from the floor, because it constantly was falling over. Plus, there was no way to grab this bottle quickly. You need to dedicate a whole hand to carrying it around, and that—for me—was a no go. After about a semester, the bottle started to smell, which wasn't so swell, and because there was no easy way to clean it, I moved on.
Then, I found this great, clear OXO bottle that screwed apart in the middle for easy cleaning. I LOVED this bottle and loved the handy wire cap connector, which made for easy, one-finger, grab and go. I also loved that it was clear, so I could see how much I had left in the bottle.
The OXO Strive Advance unscrews in the middle for easy cleaning.
I loved this bottle so much that I bought two. They mistakenly got put in the dishwasher once, and that was the end. Somehow, the dishwasher made the latex seal in the bottle fail, and they leaked horribly after that. Despite the leakiness, I still used the bottles for a while, but then the wire cap holder started to rust.
Then, after the OXO bottle, I went total hipster and just used a Mason jar for a year. It was great because it had a generous capacity, wasn't precious (so it was easily replaceable if I left it behind somewhere), and was easy to clean. It just wasn't very portable.
So, completely on a whim, I bought an ecoVessel Bold.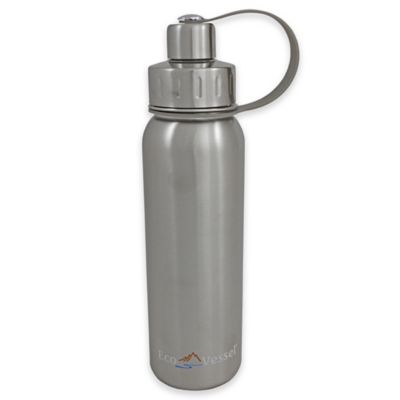 Instantly, I really liked this bottle. The loop makes it easy to grab and carry. The lid screws apart in two places, one big mouth, one little mouth, so that's good and makes it easy to fill and clean. It's durable, but somehow after using mine for a few months, I cracked the metal on the big lid. Not a problem, I contacted ecoVessel, and they were able to send me a replacement (three, in fact) to ensure that I'll be able to use this bottle for a very, very long time.
Unfortunately, the ecoVessel Bold model has since been discontinued (of course), but the ecoVessel Boulder line looks just as sleek (if not exactly the same), comes in a variety of colors, and is triple insulated.  I like the fact that they sell replacement parts and that  their customer service was attentive and polite. I would recommend ecoVessel highly.
Finally! My search for a decent water bottle is over… I think!